TATA NEXON
(4.7 Based on User Reviews *)
₹7.80 – 14.30 Lakh*
*Prices Ex Showroom. One India, One Price.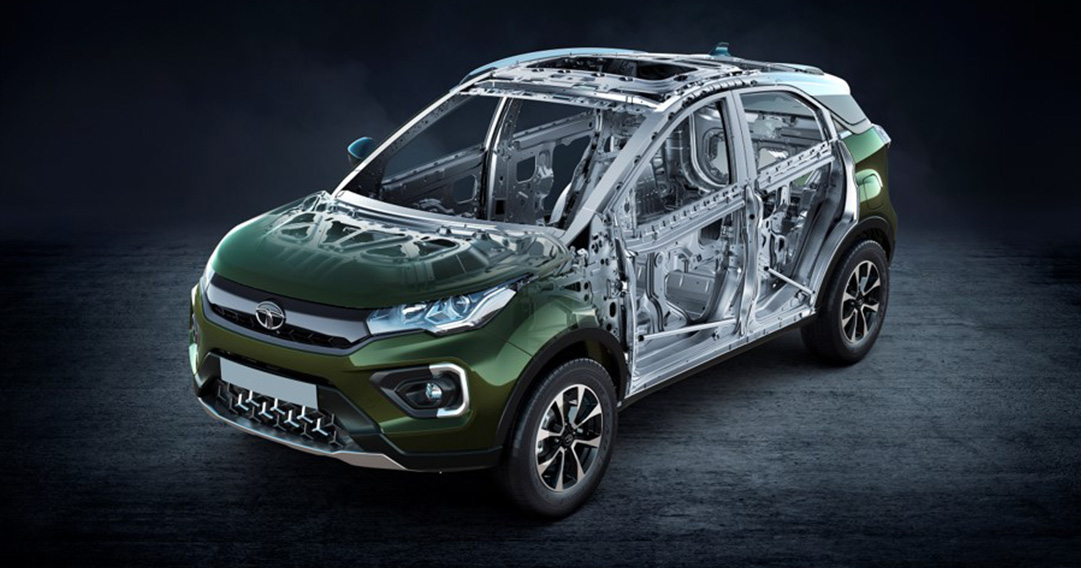 NEX LEVEL SAFETY
Nexon's high-strength steel structure absorbs impact energy and protects the passenger during an unfortunate collision.
NEX LEVEL DESIGN
A box breaking SUV design that combines the practicality of an SUV with the style of a sports coupe.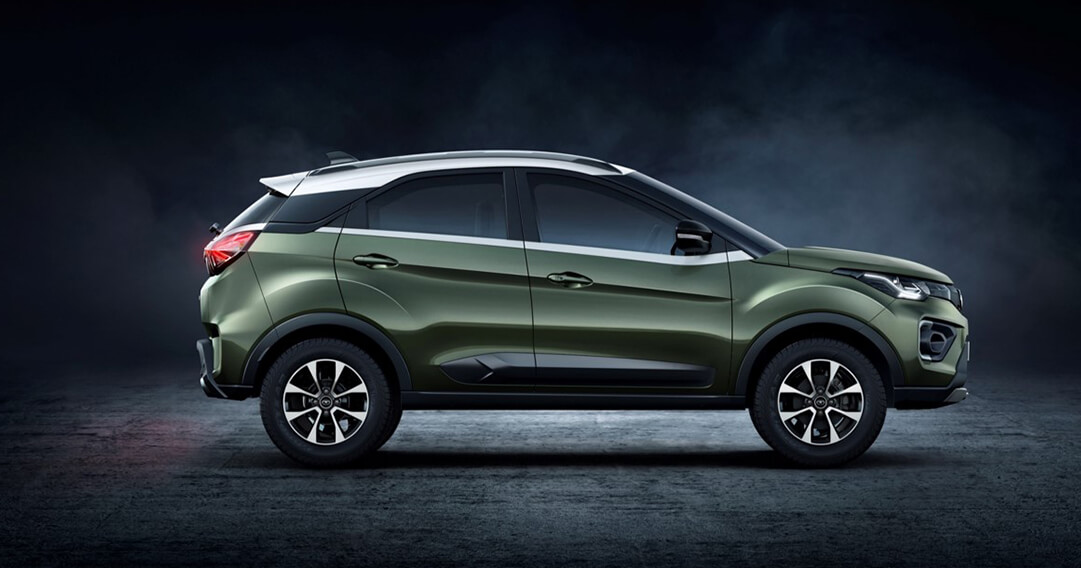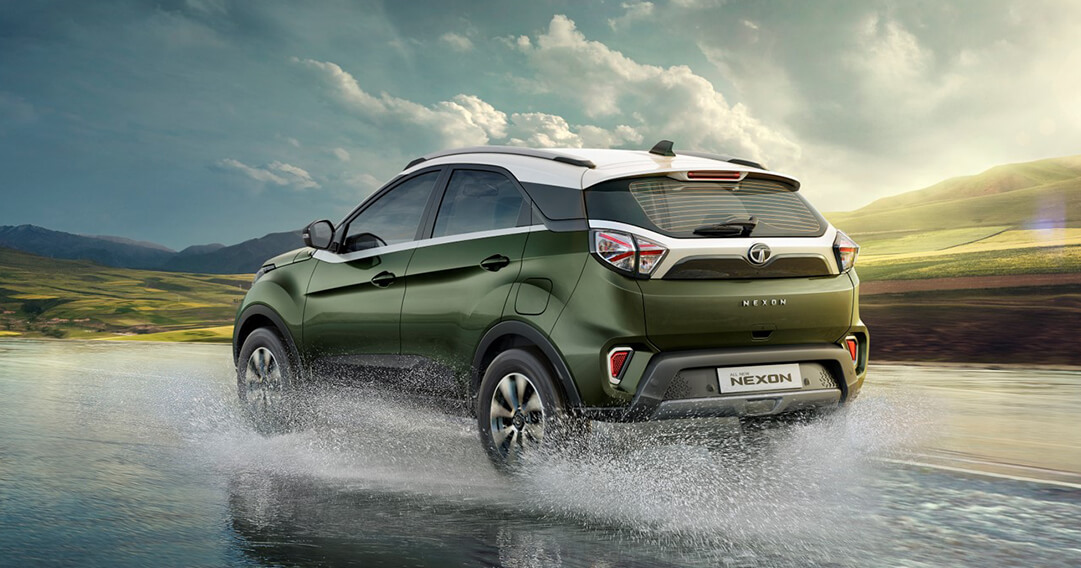 NEX LEVEL PERFORMANCE
Powered by 120PS Turbocharged engines, 6 speed transmission and three drive modes – ECO, CITY & SPORT, the NEXON provides a drive experience like no other.
NEXON XE
Petrol, Manual

₹ 

7,79,900
NEXON XM
Petrol, Manual

₹ 

8,79,900
NEXON XM S
Petrol, Manual

₹ 9

,39,900
NEXON XM+ S
Petrol, Manual

₹ 

9,94,900
NEXON XZ+
Petrol, Manual

₹ 10

,49,900
NEXON XZ+ DARK
Petrol, Manual

₹ 10

,79,900
NEXON XZ+ S
Petrol, Manual

₹ 11,24

,900
NEXON XZ+ S DT
Petrol, Manual

₹ 11

,39,900
NEXON XZ+ S DARK
Petrol, Manual

₹ 11

,54,900
NEXON XZ+ LUX
Petrol, Manual

₹ 11

,59,900
NEXON XZ+ LUX DT
Petrol, Manual

₹ 11

,74,900
NEXON XZ+ LUX DARK
Petrol, Manual

₹ 11

,89,900
NEXON XZ+ LUXS
Petrol, Manual

₹ 12

,09,900
NEXON XZ+ LUXS KAZIRANGA
Petrol, Manual

₹ 12

,19,900
NEXON XZ+ LUXS DT
Petrol, Manual

₹ 12

,24,900
NEXON XZ+ LUXS DARK
Petrol, Manual

₹ 12

,29,900
NEXON (P) XZ+ LUXS JT
Petrol, Manual

₹ 12

,32,900
NEXON XZ+ LUXS RED #DARK
Petrol, Manual

₹ 12

,34,900
NEXON XM
Diesel,Manual

₹ 9

,99,900
NEXON XM S
Diesel,Manual

₹ 10

,74,900
NEXON XM+ S
Diesel,Manual

₹ 11

,29,900
NEXON XZ+
Diesel,Manual

₹ 11,84

,900
NEXON XZ+ DARK
Diesel,Manual

₹ 12

,14,900
NEXON XZ+ S
Diesel,Manual

₹ 12

,59,900
NEXON XZ+ S DT
Diesel,Manual

₹ 12

,74,900
NEXON XZ+ S DARK
Diesel,Manual

₹ 12

,89,900
NEXON XZ+ LUX
Diesel,Manual

₹ 12

,94,900
NEXON XZ+ LUX DT
Diesel,Manual

₹ 13

,09,900
NEXON XZ+ LUX DARK
Diesel,Manual

₹ 13

,24,900
NEXON XZ+ LUXS
Diesel,Manual

₹ 13

,44,900
NEXON XZ+ LUXS KAZIRANGA
Diesel,Manual

₹ 13

,54,900
NEXON XZ+ LUXS DT
Diesel,Manual

₹ 13

,59,900
NEXON XZ+ LUXS DARK
Diesel,Manual

₹ 13

,64,900
NEXON XZ+ LUXS JT
Diesel,Manual

₹ 13

,67,900
NEXON XZ+ LUXS RED #DARK
Diesel,Manual

₹ 13

,69,900
NEXON XMA
Petrol,AMT

₹ 9

,44,900
NEXON XMA S
Petrol,AMT

₹ 9

,99,900
NEXON XMA+ S
Petrol,AMT

₹ 10

,59,900
NEXON XZA+
Petrol,AMT

₹ 11

,14,900
NEXON XMA S
Diesel,AMT

₹ 11

,39,900
NEXON XZA+ DARK
Petrol,AMT

₹ 11,44

,900
NEXON XZA+ S
Petrol,AMT

₹ 11

,89,900
NEXON XMA+ S
Diesel,AMT

₹ 11

,94,900
NEXON XZA+ S DT
Petrol,AMT

₹ 12

,04,900
NEXON XZA+ S
Petrol,AMT

₹ 12

,19,900
NEXON XZA+ LUX
Petrol,AMT

₹ 12

,24,900
NEXON XZA+ LUX DT
Petrol,AMT

₹ 12,39,900

NEXON XZA+
Diesel,AMT

₹ 12,49,900

NEXON XZA+ LUX DARK
Petrol,AMT

₹ 12,54,900

NEXON XZA+ LUXS
Petrol,AMT

₹ 12,74,900

NEXON XZA+ DARK
Diesel,AMT

₹ 12,79,900

NEXON XZA+ LUXS KAZIRANGA
Petrol,AMT

₹ 12,84,900

NEXON XZA+ LUXS DT
Petrol,AMT

₹ 12,89,900

NEXON XZA+ LUXS DARK
Petrol,AMT

₹ 12,94,900

NEXON XZA+ LUXS JT
Petrol,AMT

₹ 12,97,900

NEXON XZA+ LUXS RED #DARK
Petrol,AMT

₹ 12,99,900

NEXON XZA+ LUX
Diesel,AMT

₹ 13,59,900

NEXON XZA+ LUX DT
Diesel,AMT

₹ 13,74,900

NEXON XZA+ LUX DARK
Diesel,AMT

₹ 13,89,900

NEXON XZA+ LUXS
Diesel,AMT

₹ 14,09,900

NEXON XZA+ LUXS KAZIRANGA
Diesel,AMT

₹ 14,19,900

NEXON XZA+ LUXS DT
Diesel,AMT

₹ 14,24,900

NEXON XZA+ LUXS DARK
Diesel,AMT

₹ 14,29,900

NEXON XZA+ LUXS JT
Diesel,AMT

₹ 14,32,900

NEXON XZA+ LUXS RED #DARK
Diesel,AMT

₹ 14,34,900